ETF full name: ROBO Global Robotics and Automation Index ETF
Segment: robotics, artificial intelligence, healthcare technology
ETF provider: ROBO Global, LLC
| | |
| --- | --- |
| SPY key details | |
| Issuer | ROBO Global, LLC |
| Dividend | $0.71 |
| Inception date | December 22, 2013 |
| Expense ratio | 0.95% |
| Management company | ROBO Global Robotics and Automation |
| Average Annualized Return | 6.22% |
| Investment objective | Growth |
| Investment geography | Robotics-related and automation-related companies |
| Benchmark | N/A |
| Leveraged | N/A |
| Median market capitalization | $26.52 billion |
| ESG rating | A: 6.17 out of 10 |
| Number of holdings | 84 |
| Weighting methodology  | Market capitalization |
About the ROBO ETF
ROBO Global Robotics & Automation ETF (ROBO) invests in global companies that drive innovation in robotics, automation, and artificial intelligence. It includes companies that create technologies to create intelligent systems that can recognize, process, act, and companies that use those technologies to deliver RAAI-enabled products.
The company Robo Global, LLC is very proud to have more than seven PhDs on its staff who continuously research the market for new innovative solutions.
The foundation's primary goal is to identify market leaders in the industry or provide technology leadership through innovation. The index distributes 40 to 60 percent between major stocks and non-core stocks during each quarterly rebalancing.
According to the information on the official website, the company has bold predictions that the industrial automation market value will reach an estimated $352 billion by 2024, and the healthcare AI market will be worth $36 billion by 2025.
ETF Fact-set analytics insight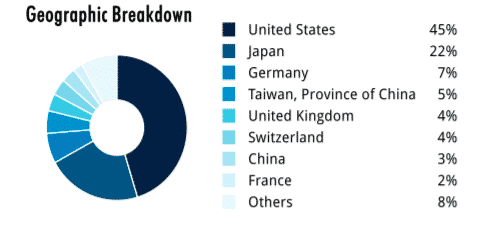 The ROBO Global Robotics and Automation ETF invests in technology, industrial, IT, and other robotics-related stocks. Almost half of the fund's investments (45%) come from American companies. The share of Asian companies is 30%, European — 17%.
The ROBO ETF was created in 2013, and four years later, the index returned 46% to investors. It has an AUM of $1.50 billion and charges 95 basis points in annual fees.
ROBO annual performance analysis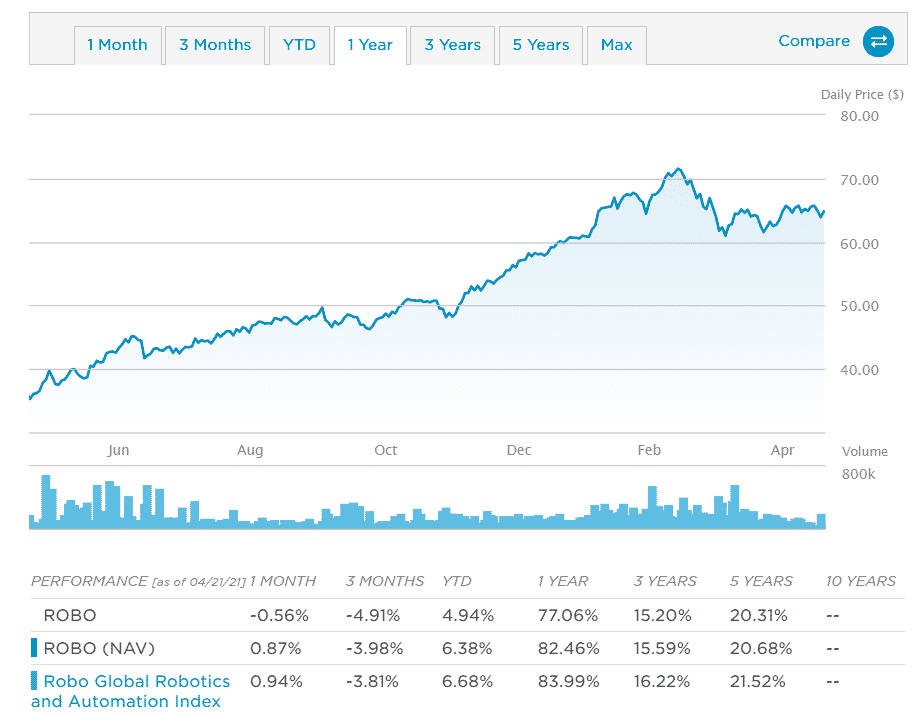 Over the last year, the fund has delivered a stellar 83.99% return. The 3-year returns stand at 16.22%, and 5-year returns are 21.52%.
ROBO ETF RATING

Resource
ETF DATABASE
ETF.com
MarketWatch
Morningstar.com
ROBO
C
A
2
****
MSCI ESG Rating
–

6.17

–
–
On the scale of the MSCI ESG Fund rating, which measures the resilience of portfolios to long-term risks and opportunities related to the environment, ROBO ETF has a 6.17 out of 10.
ROBO key holdings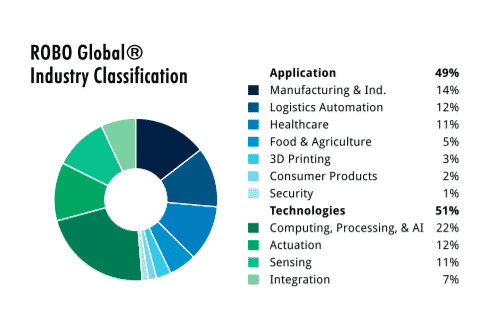 According to the brochure, ROBO holdings are checked for software improvements for automation or hardware production for automation. In some cases, on the subject of both.
ROBO holdings are relatively evenly balanced and diversified. They include about 84 companies, none of which exceeds 2% of the fund. The ten most extensive ROBO holdings account for only 16% of the fund.
These are the ten most extensive constituent stocks in ROBO.
| | | |
| --- | --- | --- |
| Ticker | Holding name | % of assets |
| BRKS | Brooks Automation, Inc. | 1.88% |
| ISRG | Intuitive Surgical, Inc. | 1.82% |
| KARN | Kardex Holding AG | 1.67% |
| HEXA.B | Hexagon AB Class B | 1.65% |
| 098460 | Koh Young Technology Inc. | 1.65% |
| CGNX | Cognex Corporation | 1.64% |
| NOW | ServiceNow, Inc. | 1.62% |
| TECH | Tecan Group AG | 1.62% |
| NUAN | Nuance Communications, Inc. | 1.60% |
| IPGP | IPG Photonics Corporation | 1.60% |
Industry outlook
Due to the coronavirus outbreak, the robotics market is flooded with opportunities. Robots are used to disinfect homes, offices, hospitals, and monitor, survey, process, and deliver. Current conditions appear to be favorable for robotics markets in government applications such as healthcare, security, and defense.
According to statistics, Robotics and automation technology's total addressable market is about to grow at a 26% compound annual growth rate, according to Statista. With total robotics sales of ~100 billion dollars in 2020, the industry is expected to reach 210 billion dollar value by 2025.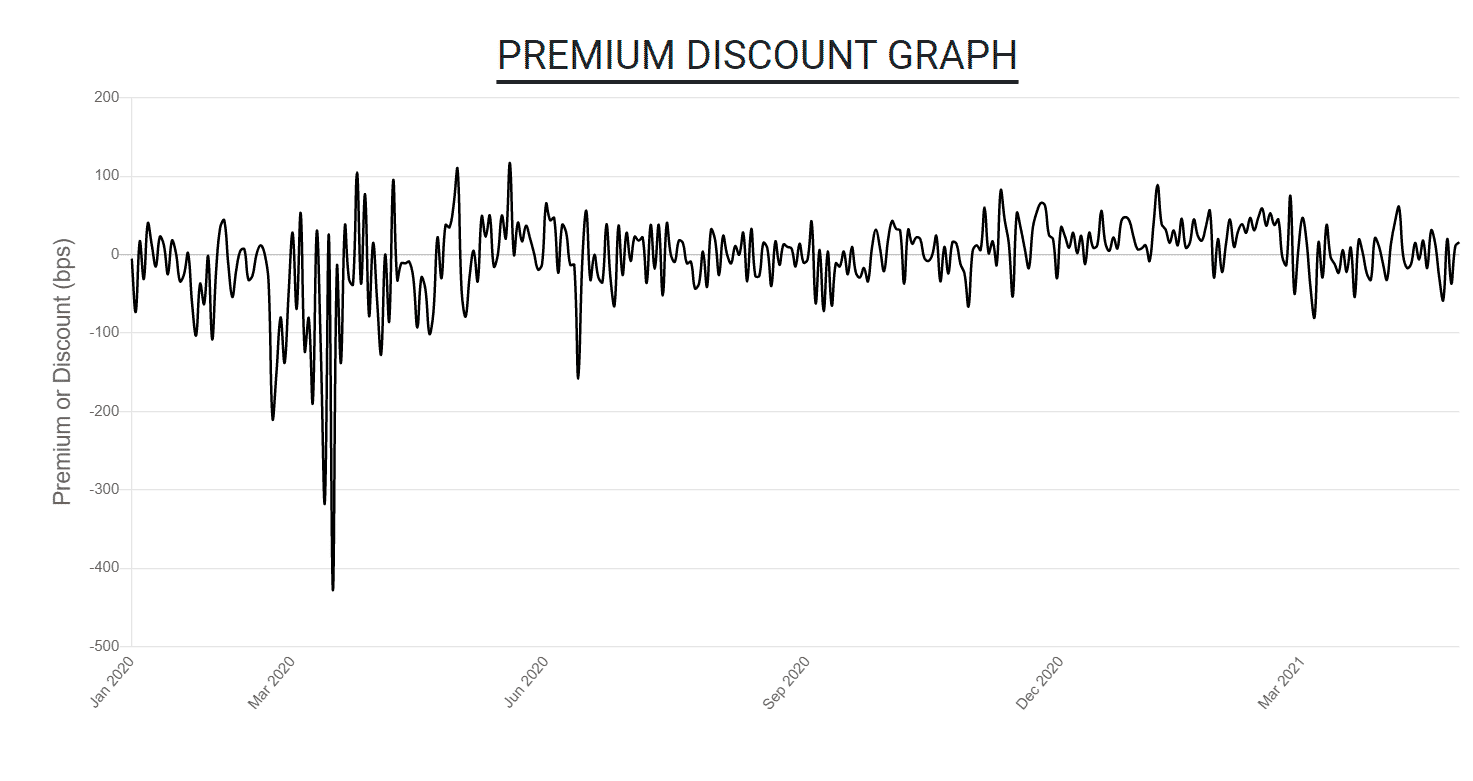 ROBO summary, April 2021
In the future, robots will be widely used in industry, manufacturing, healthcare, logistics, maintenance, electronics, food, and beverage industries. This makes funds like ROBO an attractive investment option.