ETF full name: Grayscale Ethereum Classic Trust
Segment: Ethereum Classic
ETF provider: Grayscale Investments, LLC
| | |
| --- | --- |
| ETCG key details | |
| Issuer | Grayscale Investments, LLC |
| Inception date | April 24, 2017 |
| Expense ratio | 3% |
| Management company | Grayscale Investments, LLC |
| Investment objective | Track the market price of Ethereum Classic, fewer fees, and expenses |
| Investment geography | US |
| Benchmark | CoinDesk Ether Classic Price Index (ECX) |
| Leveraged | No |
| Assets under management | $384.7 million |
| Number of holdings | 1 |
| Weighting methodology  | N/A |
About ETCG
The Grayscale Ethereum Classic Trust (ETCG) is a trust that invests exclusively in Ethereum Classic. It gives investors exposure to the Classic Ethereum without worrying about buying, safeguarding, and storing their ETC.
The ETCG tracks the CoinDesk Ether Classic Price Index. It has an annual fee of 3%, which is ridiculously high. The Grayscale Ethereum Classic Trust shares are the first publicly-quoted securities that derive value entirely from the Ethereum Classic price movements.
ETCG FactSet analytics insight
The fund has $384.7 million in assets under management. Each share of the ETCG represents 0.886624587 ETC. The trust has 13,993,800 outstanding shares.
The ETCG trust stores its assets in "cold" storage with Coinbase Custody Trust Company as a custodian. Shares of the trust trade on the OTCQX under the Alternative Reporting Standards.
Historically, the trust has traded at a significant premium over the Ethereum Classic. But the price gap between ETCG and ETC has narrowed significantly in April 2021.
Investors in the trust are paying more money for one ETC than it is worth, largely thanks to the premium and 3% annual fee. But you don't have to deal with the hassles and risks of holding the actual cryptocurrency.
ETCG annual performance analysis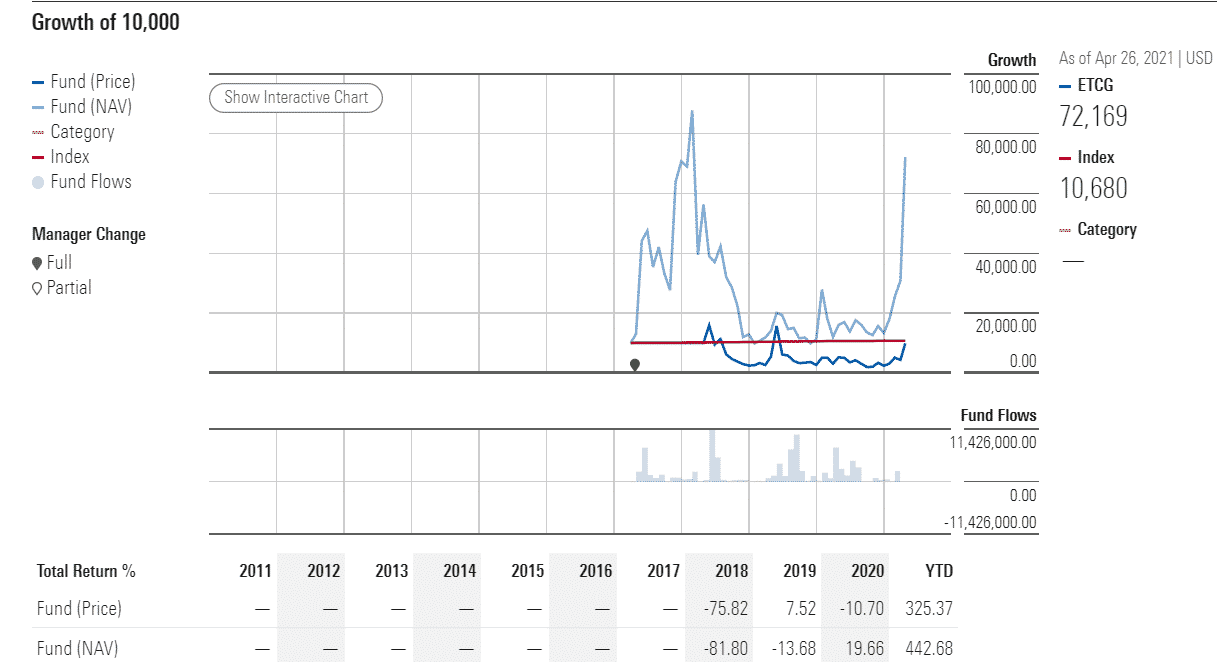 Just like most other cryptocurrencies, Ethereum Classic has rallied over the last year. Its price has gone up from $6.07 to $33.41 during the previous 12 months. The Grayscale Ethereum Classic Trust (ETCG) has delivered a 433.79% return since last year.
Since its inception in April 2017, the trust has returned 621.52%. The prices of crypto assets took a beating in 2018. They picked up momentum again in 2020 as central banks from around the world loosened their monetary policies.
ETCG key holdings
The trust holds only Ethereum Classic as its underlying asset. Since the ETCG has 13,993,800 outstanding shares and each share represents 0.886624587 ETC, the trust holds 12,407,247 Ethereum Classic. The fund allows investors to invest in the crypto asset transparently while regulators still figure out whether to approve a crypto ETF.
Industry outlook
Ethereum Classic is the original, unaltered version of Ethereum. The new, altered version is called Ethereum and trader under the ticker symbol ETH. In the last few years, the new ETH has become much more popular than the Ethereum Classic and is now considered a much safer investment. The Classic version regularly suffers from 51% attacks due to the lack of community support.