ETF full name: Simplify Interest Rate Hedge ETF
Segment: Hedge Fund
ETF provider: Simplify Asset Management Inc.
PFIX key details
Issuer
Simplify Asset Management Inc.
Inception date
10th May 2021
Expense ratio
0.5%
Net expense ratio
–
Average daily $ volume
$89,610 thousand
Investment objective
Inflation Protected
Investment geography
Alternatives
Net assets under management
$60.67 million
Total assets
$61,743,923.36
Shares outstanding
1,375,001
About the PFIX ETF
Given the FED's stance on letting inflation rates rise in the foreseeable future, the post-pandemic expectation is low-interest rates to spur fast economic resurgence to attain normalcy as soon as possible. Investors then need an investment instrument that hedges their interests against these market conditions.
Simplify Asset Management Inc. has an answer for investors, the Simplify Interest Rate Hedge ETF, PFIX. It is one of the newest exchange-traded funds available to investors as a hedge against extreme interest rates movement, launched on 10th May 2021.
PFIX fact-set analytics insight
Simplify Interest Rate Hedge ETF does not track any index now but seeks investments that hedge against long-term interest rate adverse movements. It does this by adopting positions that ensure benefits from higher fixed-income volatility hence providing income in times of market stress.
The PFIX invests in exchange-traded funds with a primary interest in US treasuries, interest rate options, swap options, Treasury Inflation-Protected Security (TIPS), and investment-grade bonds to achieve its investment objectives.
PFIX performance analysis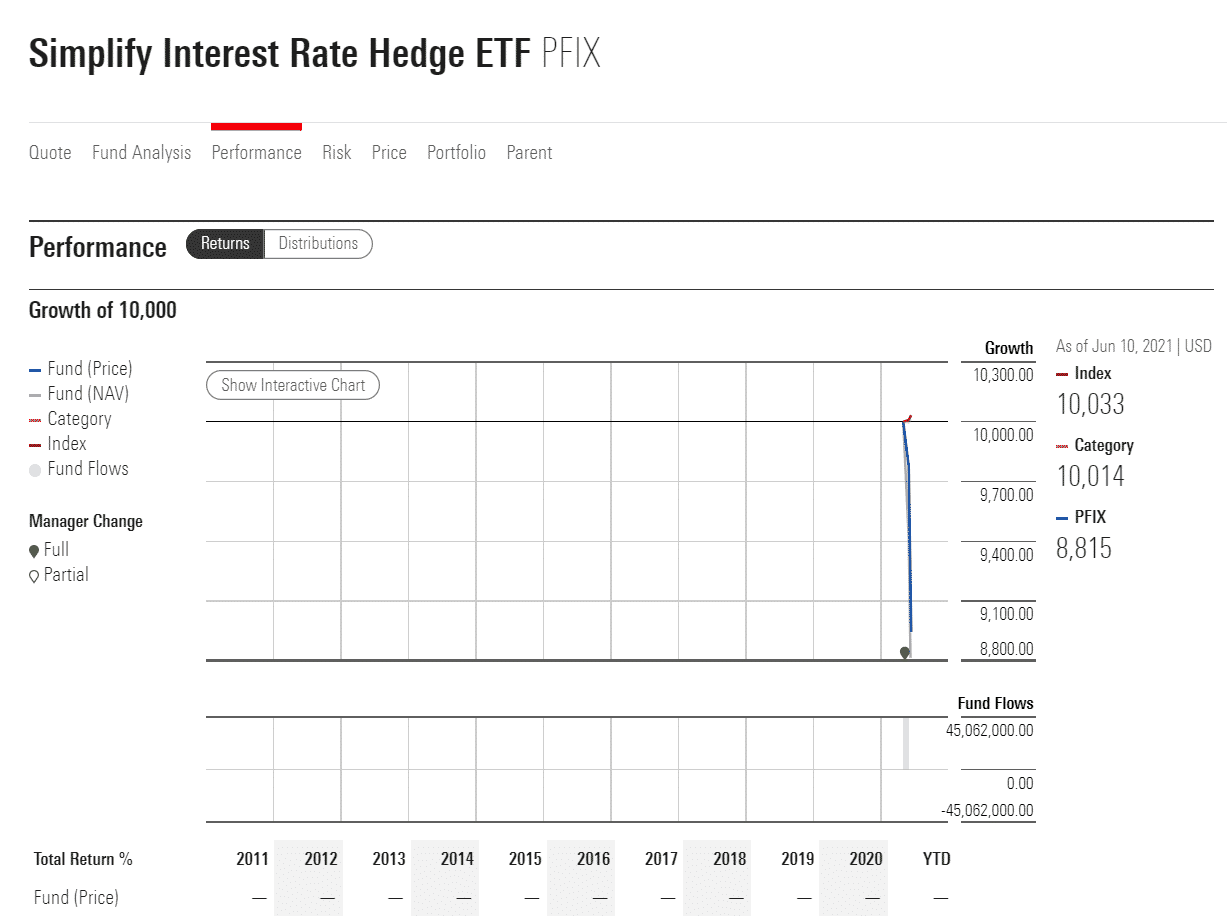 Exchange-traded funds might go deep after introduction before take-off, but the PFIX ETF has already shown resilience, -0.35% since inception. The expectation is for the fund to start a bullish run once interest rates start moving on the back of economic resurgence, post-pandemic-use of over the counter, OTC, interest rate options offer exposure to significant interest rate movements.
The PFIX exchange-traded fund boasts $60.67 million in assets under management.
PFIX ETF RATING

Resource
ETF

DATABASE

ETF.com
MarketWatch.com
Morningstar.com
Money.usnews.com
IPO Rating
N/A
N/A
N/A
N/A
N/A
IPO ESG Rating
N/A
N/A
N/A
N/A
N/A
PFIX key holdings
Simplify Interest Rate Hedge ETF offers investors exposure to alternative investment assets to hedge against rising interest rates in the long term. As such, its holdings consist of swap options, commonly known as swaptions in the investment world, treasuries with interest-rate protection, investment grade bonds, and interest rate options. It is, therefore, a non-diversified exchange-traded fund offering exposure to alternative assets. The options, Treasury Inflation-Protected Security and TIPs that this ETF invests in vary in their maturity periods.
The current PFIX holdings (according to the Simplify official site).
| | | |
| --- | --- | --- |
| Ticker | Holding's name | % of assets |
| T 0 3/4 04/30/26 | 5 Year Treasury | 55.38% |
| – | SWAPTION 05/11/2028 P4.25 BOAML | 0.10% |
| – | SWAPTION 05/11/2028 P4.25 | -2.39% |
| – | SWAPTION 05/11/2028 P3.50 | -2.89% |
| – | SWAPTION 05/11/2028 P3.50 | -0.93% |
| – | SWAPTION 05/12/2028 P4.25 | -2.24% |
| – | Estimated Cash | 52.98% |
Industry outlook
The FED is on the brink of tapering off its monthly $120 billion purchase. According to FED's chair Jerome Powell, they have had a sit-down on the way forward. The massive vaccination and economic recovery are at an accelerated rate than earlier anticipated, necessitating the FED's need to consider the 2023 interest rate hike, which is much earlier than expected.
As such, interest rate hedged ETFs are in pole position to make serious money for those already invested.